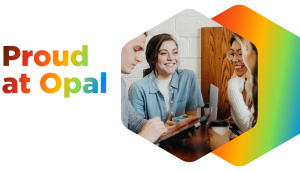 At Opal we value the differences between people and the contribution these differences make to our business.
We also recognise that inclusion and diversity is everyone's responsibility and Opal's goal is to create a culture that is inclusive, diverse and that respects and celebrates our differences.
Proud at Opal is an internal network that has been created by our team members to support diversity, acceptance and equality within our workplace. Proud at Opal will focus on key areas such as education, support, engagement and visibility for our LGBTQ+ team members and allies.
Supporting LGBTQ+ workplace inclusion through Proud at Opal is also aligned with our Diversity and Inclusion Policy.
Proud at Opal mission statement:
To create a supportive environment for all our people, customers, friends and family members who identify directly as LGBTQ+ or are a supporting ally of the LGBTQ+ community.