McDonald's Happy Meal Boxes
Opal's Innovation and Design (I&D) team has collaborated with McDonald's on a number of Happy Meal® promotional projects that showcase box office feature film releases such as Space Jam: A New Legacy.
Opal responded to a brief from McDonald's and based on the unique and high-quality design concepts presented, was selected to create the innovative and engaging designed Space Jam Happy Meal® boxes.
Opportunity
The Opal I&D team worked through an ideation process with McDonald's where they addressed the design opportunities and challenges, which resulted in the fun and engaging design concepts aimed at delighting children.
The concept designs were thoroughly considered and included the ease of putting the packaging together safely and efficiently by McDonald's crew members.

The Happy Meal® box design needed to meet the iconic Happy Meal® shape and the Opal I&D team looked at elevating the interaction and purpose of it through a combination of creativity and gamification.
The final design concept was influenced by the idea of helping to drive brand satisfaction and customer engagement to support McDonald's as the family restaurant of choice.

Outcome
The concepts designed by the Opal I&D team were prototyped, mocked up and showcased Opal's extensive design capabilities.
Opal presented a unique and creative design that delivered an interactive Space Jam Happy Meal® with a pop-out basketball, hoop and background. The box created a fun activity for children to interact with, by aiming to score by either throwing or slam dunking the ball into the hoop.
As a result of the popularity and success of the Space Jam Happy Meal® box, Opal has partnered with McDonald's to design a series of additional Happy Meal® boxes including Mr Men & Little Miss and Minions.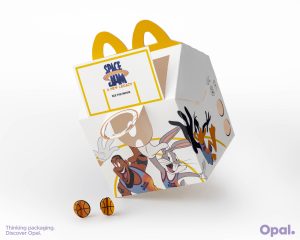 Contact:
For further information on how Opal can support your business with similar innovative and creative packaging solutions, please contact JD Wong, Opal I&D Manager, jd.wong@opalanz.com
McDonald's Happy Meal Boxes