Opal's pop-up cardboard box seats are the stars at City of Canterbury Bankstown's outdoor cinemas
Opal has created 400 fun and comfy 'pop-up' cardboard box seats for City of Canterbury Bankstown's free Movies Under the Stars outdoor cinema series.
The Australian-manufactured pop-up seats are being offered at the movie screenings across parks in CBCity.
The cleverly designed seats are a first for Opal. Key features that needed to be incorporated included being lightweight, easy to assemble and have the strength to provide good back support. The cardboard seats feature the CBCity and Opal logos. They also feature a QR code that directs people to view Opal's designs and products, including high-impact point-of-sale and bespoke boxes featuring vibrant colour printing.
The first Movies Under the Stars screening kicked off on Saturday, 7 October, at Gough Whitlam Park, Earlwood. More than 300 people registered for the event to watch the film, Carona, a standout from the recent Lebanese Film Festival.
The second Movies Under the Stars screening was on Saturday, 14 October in Bankstown and saw more than 400 guests in attendance for the screening of children's favourite film, Mummies.
Feedback on the pop-up box seats from cinema goers at the first screening was enthusiastic and included comments that the seats were sturdy and provided good back support. Once the cardboard box seats can no longer be used, they can be recycled through curb side recycling or local cardboard recyclers.
Find out more about CBCity's FREE Movies Under the Stars outdoor cinema: https://www.cbcity.nsw.gov.au/events/movies-under-the-stars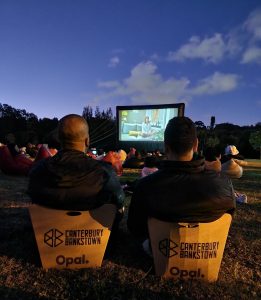 Pop-up cardboard box seats the stars of the outdoor cinemas