A Leading Employer
From Margaret River to Bundaberg, down to Gippsland and across to Christchurch, NZ, you will find Opal team members working hard 24/7 to meet the packaging needs of our customers.
Our largest site is the Maryvale Mill in Victoria's Latrobe Valley.
Each year, Opal's Botany Mill and Maryvale Mill undergo a major shut to complete essential and major maintenance works. The combined Botany and Maryvale major shuts in 2021 required a total investment of $26.3m with 73,809 work hours from up to 1,500 workers on site each day, completing 2,600 maintenance jobs and 26 major projects.
We are One Opal Team, embracing the strength of our diversity and working together to achieve extraordinary things.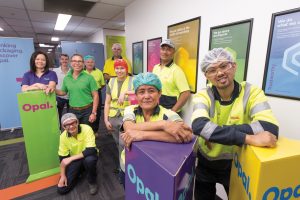 Find out more information
Community Partnerships
Opal is proud to support the community through partnerships that align with our Values. Across Australia and New Zealand, Opal is committed to engaging with and providing support to our local communities.
Find out more
Opal Careers
Opal is proud of our 150 year history in Australian manufacturing but we are firmly focused on the future. We are committed to making the right strategic choices today to secure our global competitiveness into the future.
Find out more