Opal and Thread Together: A Packaging Partnership with Purpose
Opal has formed an impactful partnership with Thread Together, a not-for-profit organisation that was founded in 2012. Thread Together collects donated brand new, unsold clothing from fashion brands, that might otherwise end up in landfill, and instead provides it to people in need.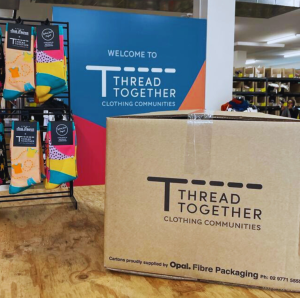 Thread Together reached out to Brad Hinds, Group General Manager – Fibre, to request support and without hesitation, Brad responded favourably.
"Thread Together is such a worthy cause and we are really happy to be donating our cardboard boxes to them.
"By donating our boxes, Opal can support Thread Together in their mission to continue to divert new, unused clothing from landfill and instead ensure it is provided to people who need it most," says Brad.
Thread Together's volunteers hand-select clothes and pack the clothing into Opal's cardboard boxes, which are then delivered every week to 2,500 grateful people who are doing it tough.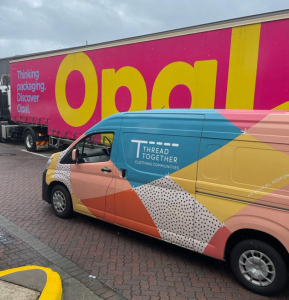 Anthony Chesler, CEO of Thread Together, says they can sort donated clothes into Opal's boxes and have them ready to give to more people in need, especially during natural disasters.
"A highlight of our partnership with Opal is that the boxes of clothing are co-branded, making them easily identifiable by our logistics partners, who then often prioritise them for delivery to people in need.
"Previously we had to put a branded sticker on to the box. The co-branded printed boxes now save us the cost and the tedious task of putting stickers on thousands of boxes," Anthony explains.
Opal has also committed to collect and recycle Thread Together's used boxes so that they can be manufactured into recycled cardboard boxes.
Opal and Thread Together: A Packaging Partnership with Purpose