Sustainable packaging for avocados the key for Simpson Farms
Overview
Simpson Farms is one of Australia's largest fresh avocado suppliers. Founded in 1969 near Bundaberg, QLD, Simpson Farms is an Australian family company that produces a range of Australian grown and manufactured avocado products. Product specialties include premium chunky avocado, guacamole, avocado pulp, fresh avocado, seasoned avocado pulp, and HPP (High Pressure Processing). HPP is technology that maintains the natural colour, flavour and texture of avocado while providing a longer shelf life and robustness.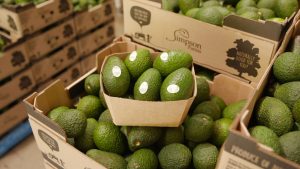 Opportunity
Simpson Farms has well developed environmental management systems. Using sustainable packaging in their supply chain is a key priority for them, so Simpson Farms sought a partner to develop sustainable packaging solutions for their business. We continue to work closely with Simpson Farms to provide packaging that is not only sustainable but also reliable, high quality, affordable and provides good protection for their products.
Outcome
As a customer-led organisation, Opal will continue to deliver for Simpson Farms by providing paper-based packaging for fresh produce that uses significantly less plastic. Past solutions have included Paper Labels, the No Crush Tray with superior stacking strength, Paper Punnets, and Moulded Paper Inserts that are in growing demand with retailers.
Sustainable packaging for avocados the key for Simpson Farms
Innovation that tackles food waste in real time
With an estimated one third of the food produced in the world each year going to waste, technologies that support food loss prevention can make a significant difference. Opal offers Xsense® to help tackle this significant issue through sophisticated cold chain technology – saving food and reducing costs. Using the…
Learn more
Driving state-of-the-art digital print solutions
Opal is one of Australia's largest corrugated packaging suppliers with an extensive customer portfolio, including large retailers, small and medium-sized enterprises, growers, fresh produce, protein and beverage industries. Opal has state-of-the-art digital print technology to help our customers respond in a market where speed, customised packaging and high quality print…
Learn more