Driving state-of-the-art digital print solutions
Overview
Opal is one of Australia's largest corrugated packaging suppliers with an extensive customer portfolio, including large retailers, small and medium-sized enterprises, growers, fresh produce, protein and beverage industries. Opal has state-of-the-art digital print technology to help our customers respond in a market where speed, customised packaging and high quality print is critical. Located at Opal Specialty Packaging in Melbourne, Australia, our digital print technology demonstrates our commitment to innovation and to bringing market leading technology that serves customer needs.  
Opportunity
Our digital printer is a game-changer for corrugated packaging customers. It delivers photographic quality imagery directly onto corrugated cardboard, allowing our customers' brand and packaging to stand out in the market. Unlike more traditional printing, digital printing enables a superior print quality and is a desired solution for cost-effective short runs and on-demand jobs where customers can print only the quantities required.
Outcome
The result of Opal's commitment to innovation and investment in digital print technology is a printer that enables customisation, creative branding and colourful packaging to ensure our customers' "first to market" brand leadership position. Our digital print technology is ideal for seasonal campaigns, time-sensitive promotions and new product launches. It also enables all sorts of branding and customisation, from logos and graphics to QR codes and high gloss colours.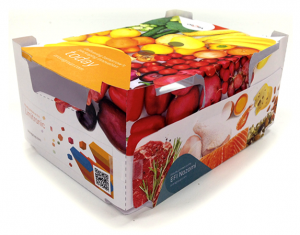 For more information, please contact your local Opal sales representative or contact us here.
Driving state-of-the-art digital print solutions
Sustainable packaging for avocados the key for Simpson Farms
Simpson Farms is one of Australia's largest fresh avocado suppliers. Founded in 1969 near Bundaberg, QLD, Simpson Farms is an Australian family company that produces a range of Australian grown and manufactured avocado products. Product specialties include premium chunky avocado, guacamole, avocado pulp, fresh avocado, seasoned avocado pulp, and HPP…
Learn more
Innovation that tackles food waste in real time
With an estimated one third of the food produced in the world each year going to waste, technologies that support food loss prevention can make a significant difference. Opal offers Xsense® to help tackle this significant issue through sophisticated cold chain technology – saving food and reducing costs. Using the…
Learn more