Ask R U OK? Everyday not just once a year
The team at Opal's Heidelberg Carton's site started up their R U OK? Friday initiative two and a half years ago.
Neil Drapper, Operations Manager at Heidelberg Cartons, said the sessions originally began due to the effects that COVID restrictions were having on co-workers and friends at work.
"The majority of the workers at Heidelberg are long-term employees, and when you know people, you can see the changes in their behavioural patterns over time," Neil says.
"I called a meeting letting the teams know that I was struggling at that time with not being able to see my children and family as they didn't live in my 5 km radius," he says.
"Sharing my pain and story to the teams also helped me significantly when I saw the team listening and caring.
"After 15 minutes of me talking, someone else spoke up about what they were going through, then another, then another. The room then became emotional with hugs and tears as they supported their co-workers and shared their stories," Neil says.
Matt Mcarthur, Heidelberg Production Manager and Neil thought they had hit a nerve and wondered how they could keep this open conversation going.
"We did the same session for the afternoon shift and got the same response, one after another told their stories and struggles.
"That's when we decided R U OK? can't be a one day a year event. We need to talk about these things more often, as people don't just struggle one day a year but every day of the year," Neil says.
Neil said he tried to make it simple for all Opal team members to ask the courageous conversation and used the similar four actions R U OK? Day advises.

Since these meetings started, Neil has seen improved morale, greater flexibility, higher employee engagement and trust and honesty between each other.
All Opal Cartons sites have implemented daily, and weekly operations meetings starting with asking how are you and how are you going before the meetings commences.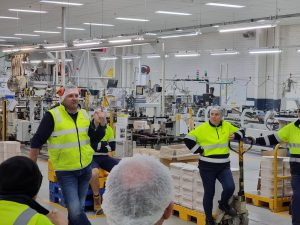 Ask R U OK? Everyday not just once a year