Opal announced as St Kilda AFLW co-major partner
Opal is proud to be announced as co-major partner for St Kilda Football Club AFLW side ahead of this year's season.
Opal is one of Australia and New Zealand's largest fibre packaging and paper businesses and is committed to its vision; Opal shapes the future through sustainable packaging.
As an innovative fibre packaging group, Opal is an integrated manufacturer of cardboard boxes, bags, sacks, point of sale, specialty packaging and recycling services.
Opal designs, manufactures and supplies a broad range of innovative packaging solutions for the FMCG, quick service restaurant, fresh produce, dairy, meat and seafood, retail, pharmaceutical, copy paper and stationery sectors.
As co-major partner, Opal will be featured on sponsorship collateral and on the front of St Kilda's AFLW home and away guernseys and team apparel.
Opal will also be integrated across St Kilda's men's program, covering player contract extensions and numerous game-day branding initiatives.
A key component of the partnership will see St Kilda and Opal cross-collaborate to deliver a range of programs for team members, covering wellbeing, coaching for performance, diversity, inclusion and women in leadership.
Mr Matt Iizuka, CEO Opal says sustainability, innovation, teamwork and community are at the heart of what Opal does.
"The partnership with St Kilda provides an opportunity to increase the profile of Opal's brand, and importantly, to collaborate on a range of key initiatives which support our local communities," said Mr Matt Iizuka, CEO Opal.
"We're really pleased to announce the continued partnership that extends across Opal ," St Kilda Executive General Manager – Commercial Chris Larkins said.
"Opal's support of both our men's and women's programs further show their belief in what we're building here at the Saints, and we're excited to have them with us for the seasons ahead."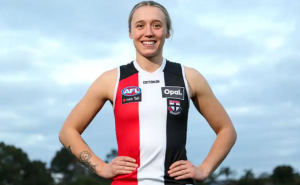 Opal announced as St Kilda AFLW co-major partner