Creating a sophisticated carton for Pokeno's premium whisky

Overview
Pokeno Whisky, a New Zealand single malt whisky company, collaborated with Opal to create a sophisticated, high-quality carton fit for their premium whisky range. They had conceptualised how the visuals and branding could be brought to life but required Opal's expertise to elevate their packaging design.
Opal's goal was to design and manufacture a carton that was visually different to other whisky packaging in the market while ensuring it could be easily recognised as a New Zealand product. It was also important for Pokeno Whisky that the packaging was locally made, as this would align with their brand messaging.
Opportunity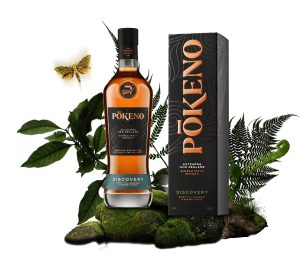 To develop this premium packaging for a high-end product, Opal sought to understand the complexities of whisky-making. Manufacturing whisky is an extensive process that requires a skilled and intricate approach, where it starts as beer before being distilled and matured in casks for a minimum of three years.
To capture this elaborate process, Opal created an innovative packaging solution that allowed Pokeno Whisky to bring their detailed artwork to life. This artwork features copper foiling and embossing of the Pokeno Whisky logo that is printed largely across the carton in bold for impact. The all black packaging and fern artwork ensures the whisky is easily identified as a New Zealand product. Furthermore, the fern artwork utilises spot UV, an ultraviolet varnish that is applied to the fern artwork or relevant 'spots' to highlight it. This print embellishment demonstrates a level of attention to detail and reinforces the message of premium whisky packaging.
As the brand and product is of New Zealand origins, it was important to Pokeno Whisky that the packaging was locally made too. With this in mind, Opal manufactured the packaging on one of our New Zealand sites using locally sourced cartonboard.
The use of solid cartonboard material ensures the packaging is durable enough to protect the whisky bottle within. The packaging features a bespoke internal neck locator that secures the bottle and limits movement, providing protection and enhancing ease of opening for the consumer.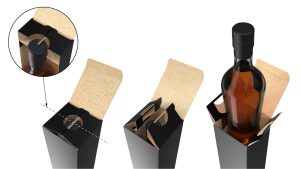 This offers Pokeno Whisky assurance that their product will arrive to consumers in optimal condition and presentation.
Outcome
Opal was proud to deliver a solution that met Pokeno Whisky's key objective of premium packaging for a high-end New Zealand whisky. The use of all black packaging is visually sleek and conveys the message of a premium product, which aligns with the brand's target demographic of whisky connoisseurs.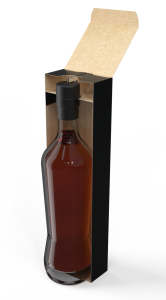 The packaging design choices including the fern artwork, colours, spot UV, foiling and embossing all work in harmony to communicate the messages of premiumisation. The carton artwork also helps consumers to easily identity the whisky as a New Zealand product.
The packaging is both aesthetically sophisticated and highly functional through the closing and securing mechanism that holds the bottle in place, protects it from breakage and allows convenient opening for the consumer.
Importantly, our packaging delivers on Pokeno Whisky's key brand message of being a local product, as both the whisky and packaging are made in New Zealand.
Contact
For sale enquiries contact Kadyn Kwok-Kelly: Kadyn.Kwok-Kelly@opalanz.com
Creating a sophisticated carton for Pokeno's premium whisky