Opal announced as finalist for five PIDA awards
The Australasian Packaging Innovation & Design Awards (PIDAs) finalists across 12 categories have been announced!
Opal has been recognised as a finalist for three Opal produced products across four categories, namely:
Food
Outside of the Box
Labelling and Decoration
Sustainable
Cadbury Roses Limited Edition Mother's Day finalist for Food Category and the Outside of the Box Category
Opal has been nominated for our work in producing Cadbury Roses Mother's Day chocolate packaging with Mondelez. The box features the creative artwork of First Nations Wiradjuri artist, Karen Lee. Titled, 'Mandaang Guwu', which means thank you in Wiradjuri, the art celebrates love and connection.
The Cadbury Roses box takes the brand from a flat standard chest style box to a vertical style carton. It demonstrates Opal's die-cutting expertise and takes advantage of colour contrast and tactile depth with the brand's iconic rose.
Opal's limited edition Cadbury Roses packaging is a paper-based solution, providing an alternative to the traditional tin.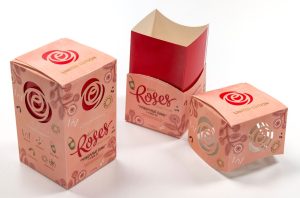 Cadbury Favourites Chocolates finalist for Labelling and Decoration Category
Opal worked closely with Mondelez to produce a brown shelf-ready packaging solution for Cadbury Favourites.
The goal was to deliver the recognisable Cadbury Favourites brand on sustainable brown packaging board using recyclable material.
Opal's ability to successfully print the recognisable Cadbury purple and Cadbury Favourites branding onto brown packaging board ensured that the product can maintain its presence in the confectionery retail environment.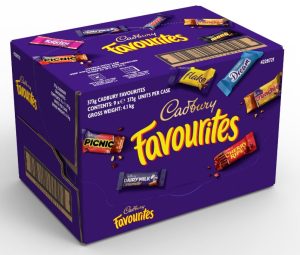 JBS dunnage nominated in the Sustainable Category and Outside of the Box Category
Opal worked with JBS to create a column-like corrugated structure solution to limit product movement during container transportation of meat exports.
The corrugated cardboard dunnage offers a direct replacement for the non-recyclable expanded polystyrene version and is made using corrugated cardboard that consists of 64 per cent Kraft paper and 36 per cent recycled cardboard content and is fully recyclable.
As a key paper and packaging supplier in Australasia, at Opal we take pride in our ability to develop sustainable packaging solutions through innovation. A big part of that is having the ability to design, manufacture and supply recyclable packaging to our customers.
The PIDA Awards are coordinated through the Australian Institute of Packaging (AIP) and are designed to recognise businesses across Australia and New Zealand who are making an impact in their field.
Opal announced as finalist for five PIDA awards