Starward Whisky bespoke packaging solution
Overview
Starward Whisky partnered with Opal for a bespoke packaging solution to fit their new direct-to-the-public online storefront. New to the e-commerce market, Starward needed a fitting shipper to represent its brand and ensure the safe delivery of each bottle from distillery to door-step.
Opportunity
Starward wanted to source an innovative and kerbside recyclable packaging solution to fit their various bottle shapes and sizes. The winning design would need to provide an engaging and unique consumer experience, while being robust enough to ensure safe transport of the liquid gold.
Pairing with the physical and safety requirements for the precious cargo, the ideal solution would also need to be on-brand and aesthetically pleasing. Starward wanted buyers to enjoy an engaging consumer experience, representative of their unique branding and personality.
Execution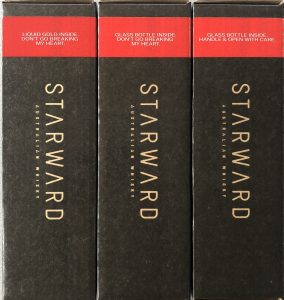 Opal worked closely with Starward to cater for their requirements and produce shippers which aligned with their needs. There were multiple proposed solutions, with the chosen design being an easy-to-assemble box with three custom-sized inserts to fit the various shaped bottles.
The cardboard inserts safely cradle the glass bottles, avoiding the need for single-use plastic wrap. The cardboard inserts complement and capitalise on the attractive design of the whisky labels, ensuring the Starward brand is properly represented during the customer unboxing experience.
As for the e-commerce box itself, customers can enjoy the witty Starward personality before even opening it with printed messages including, "Liquid gold inside. Don't go breaking my heart." With Opal's double-sided digital print capabilities, multiple designs were efficiently printed with unique messaging at no extra cost. This is a value-add for repeat consumers, who will be rewarded with varied unboxing experiences with each purchase.
The carton provides added security through a  tamper-evident, laser-cut perforated opening tab that gives consumers extra peace of mind when they pull the opening strip to reveal the liquid treasure within. The bottle is presented alongside additional branding on the opening flap and a QR code that takes you to the Starward website to learn more about your drink of choice.
Outcome
Opal provided Starward with an innovative, robust and on-brand solution to safely enter the e-commerce market. The carton offers a unique unboxing experience and drives further engagement with its customers.
Contact
For design enquiries contact Jan Meilenbrock: jan.meilenbrock@opalanz.com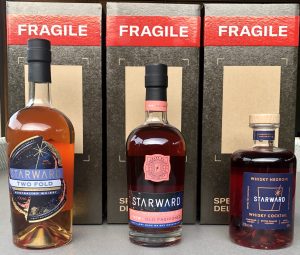 Starward Whisky bespoke packaging solution