Opal partner with City of Canterbury Bankstown to raise awareness of homelessness
This year, Opal was proud to partner with the City of Canterbury Bankstown for the Mayor's Mission Australia Light's Out Sleepout at Bankstown Airport. As part of the event, Opal donated 80 cardboard shelters for attendees of the sleepout.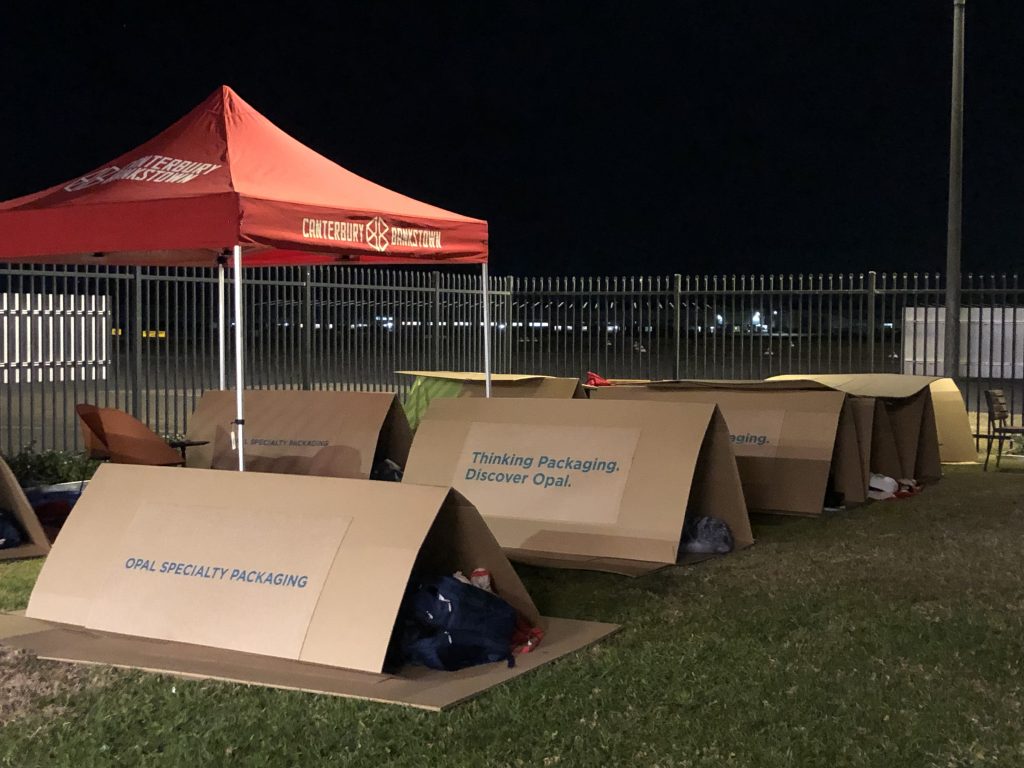 City of Canterbury Bankstown Mayor Bilal El-Hayek hosted the sleepout on Friday, 11 August, from 7 pm – 7 am to raise funds and awareness to support those experiencing or at risk of homelessness.
Joe Ardolino, Regional GM, Opal Specialty Packaging NSW, helped with the donations supplied by Opal Speciality Packaging Orchard Hills and decided to participate in the sleepout.
"It was such a rewarding experience meeting amazing people, doing amazing things for others," he said.
The event occurred out in the open at Bankstown Airport and included dinner, supper and an early breakfast.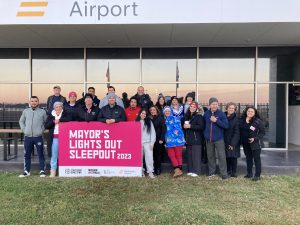 The impact of Homelessness in Australia*
There are over 122,494 people experiencing homelessness on any given night.
94 per cent of people who are homeless are hidden from public view.
More than 28,000 people experience homelessness are between the ages of 12 – 24 years old.
Domestic and family violence is one of the leading causes of homelessness in Australia.
Aboriginal and Torres Strait Islanders make up 3.2 per cent of the population but made up 20 percent of all homeless people on Census night.
*Data from Mission Australia.
Mondelez worked with Opal to produce a brown board packaging solution for its Cadbury Favourites shippers without compromising the brand's shelf presence. The switch provided notable savings in packaging costs, while also improving lead times through local sourcing.
Opal's Victorian State Sales Manager – Industrial, is ex-AFL football player Paul Meldrum, who has been working at Opal for five years.
Opal Specialty Team in Oakleigh hosted the first National Association of Women's Organisations (NAWO) site tour for the year.
This National Recycling Week we caught up with Ginny Parisot, Recycling Consultant – Opal Paper & Recycling, who has been with Opal for five years.
Opal has been shortlisted as a finalist for the APCO Our Packaging Future Awards 2022 in the category of End Market Leadership for the Opal Dunnage Solution.
For the last couple of years, Opal has partnered with one of our long-term Kiwifruit customers, Punchbowl, to support the "Kiwifruit in Schools" program.
Starward Whisky partnered with Opal for a bespoke packaging solution to fit their new direct-to-the-public online storefront. New to the e-commerce market, Starward needed a fitting shipper to represent its brand and ensure the safe delivery of each bottle from distillery to door-step.
Understanding the importance Sapporo placed on brand and identity, Opal's print capabilities aligned to support Sapporo's rich history. The design incorporated culturally significant and eye-catching Japanese iconography in the form of Manga artwork on the carton itself—the first time Manga has been used on a beer carton.