Get to know our Opal People: Darren Cooper
Darren Cooper, Flexographic Printer, heads up the Accu-Label project for Opal in Rocklea, Queensland. Darren's career started from humble beginnings, where his first paying job was counting stickers in a screen printing plant in Tasmania, where he grew up.
Darren is celebrating his first anniversary at Opal after moving from Sydney to Queensland last year, where he's been key in the setup of the Accu-Label project and installing the machinery. What started as an empty factory in 2021 has now turned into a clean room printing facility that is suitable for the production of food-grade products. The sites procedures, processes and purpose-built facility ensure the products produced within it meet the highest quality and food safety standards.
"The past year has been a great opportunity to set up a department from scratch, and see where we are today is very rewarding," Darren says.
The Accu-Label machine uses flexo label printing, the type of printer used to produce paper labels for fruits and vegetables. The paper-based labelling technology is the first of its kind in the fresh produce industry and an alternative solution to plastic labels. A key feature of the labelling system is that it provides high label adhesion rates at high-speed, even on wet and fuzzy fresh produce.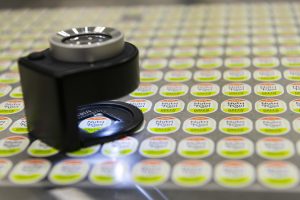 Of Opal's five Values, the Value that resonates most with Darren is Extraordinary, as he believes that we can all achieve extraordinary things with the right mindset and the correct people around us. "With Opal's backing, I believe we have achieved something extraordinary with this Accu-Label project, and I have the feeling there will be some great things achieved in the coming years with Opal and the move into Flexo label printing," he says.
The most exciting part of Darren's role is seeing a job through from an idea to a finished product. "Opal has given me the chance to be involved in every aspect of setting up this project over the past year, and it's been very exciting to use a lot of the skills I have worked hard to gain.
"It's also a great feeling when you go into the supermarket and see the labels we create for fresh produce," he says.
"I'm excited to see what the coming years have in store at Opal. I think there is going to be interesting projects that I can learn from and take to great heights," Darren says.
Click here to find out more about Opal's Career Opportunities.
Get to know our Opal People: Darren Cooper